General Information
Clothing:
Warm and comfortable, but not binding. NO JEANS PLEASE.
Mittens or gloves must be worn.
Helmets:
CSA Approved skating helmets are mandatory, no bike helmets.
Decorative stickers are not permitted in order to assess for helmet integrity.
Skates:
Skates need to be sharpened, including new skates.
Skate guards are necessary for the off-ice areas, for safety and to protect the blades.
Skates must fit properly. There should be enough room to move the toes, but not enough room to allow movement in the heel or arch area. Only one pair of socks should be worn. Skates must provide good support for the ankle. If the boot is too flexible the skater's ankles will "cave-in", making skating more difficult than necessary. Skates should be tied properly. When the boot is properly laced, the laces will be loose at the toe and loose enough at the top to insert one finger. However, the area over the arch should be laced firmly. When purchasing new skates, it is a good idea to check that the entire blade lines up with the centre of the boot, especially if the blade is riveted on and cannot be removed.
On ice conduct:
Gum, candy, or other food is not permitted on the ice.
For everyone's safety, pushing, shoving, or games of tag will not be permitted.

What to do on the first day of lessons:
• Come 20 minutes early and enter the arena by the parking lot doors.
• Check the video display screen to see which dressing room your group has been assigned to.
• Dressing rooms are located in downstairs hallways.
• Check in and pick up your skater's identification badge from the CanSkate Representative.
Parents:
A parent or guardian must remain in the arena during the session, no drop offs please. If a parent/guardian must leave the arena, another responsible person must be designated on whom we may call upon if the need arises.
Partents are asked to watch from the seating areas in the arena or the snack bar and not from the rinkside, penalty/ team boxes or the ramps leading to the ice.
The Canskate coordinator, the skating professionals or the Canskate Instructors will solve any on ice problems.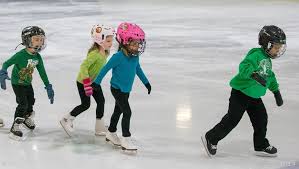 Click here for additional information CanSkate programs.
PreCanSkate
Pre-CanSkate is a learn-to-skate program for non-skating beginners. It offers 30 minute sessions with group lessons.
Skaters should be 3 years old as of September 24, 2017.
Skaters must wear a CSA Approved helmet and mitts. See General information above for additional important information.
Each session is 30 minutes in length.
Required fees:
Program fees
Fundraising Fee
Skate Canada/PCSC Admin Fee
Monday 1:45 pm – 2:30 pm see Specialized Sessions. - Curently not available.
Tuesday 6:10 pm – 6:40 pm OR 6:40 pm – 7:10 pm (Oct 31, Dec 12, Mar 13, Apr 3, no skating)
Thursday 6:10 pm – 6:40 pm OR 6:40 pm – 7:10 pm (Oct 26, Mar 1, Mar 15, Apr 5, no skating)
Friday 6:05 pm – 6:35 pm OR 6:35 pm – 7:05 pm (Feb 2, Mar 16, Apr 6, no skating)
Sunday 10:45 - 11:15 am (Dec 3, Feb 4, Mar 11, Apr 8, no skating)
CanSkate
This program for skaters, who have completed the Pre CanSkate program or have been assessed by the CanSkate Co-Ordinator.
Skaters must wear a CSA Approved helmet, regardless of age. See General information above for additional important information.
Each session is 1 hour in length.
Required fees:
Program fees
Fundraising Fee
Skate Canada/PCSC Admin Fee

Tuesday 6:10 - 7:10 pm (exception days: Oct 31, Dec 12, Mar 13, Apr 3, no skating)
Thursday 6:10 – 7:10 pm (exception days: Oct 26, Mar 1, Mar 15, Apr 5, no skating)
Friday 6:05 – 7:05 pm (exception days: Feb 2, Mar 16, Mar 30, Apr 6, no skating)
Sunday 11:10 - 12:10 pm (exception days: Dec 3, Feb 4, Mar 11, Apr 8, no skating)