Registration
Registration Information
Registration is now closed.
Your skater must be registered in a Full Year OR Winter 2020 skating program at Port Credit Skating Club in order to be a part of Carnival.
You will need to register your skater for the appropriate program based on their current skating level. I.e. if your child is in CanSkate, register for Carnival 2020 - CanSkate
When registering, you will be asked to provide costume sizing information. Simply complete the requested details for each skater including height and weight.
Volunteering is a crucial part of Carnival. You will be prompted to select a volunteer position when you complete your registration. Click here for information regarding volunteering before you proceed to registering.
Full payment is required at the time of registration. Registration is non-refundable
| | | |
| --- | --- | --- |
| Program | Registration Fee | # Performances/Show |
| CanSkate / PreCanSkate / Jumpstart | $80.00 | 1 |
| JD / Intro to Development/ Development | $125.00 | 2 |
| Pre Competitive | $145.00 | 3 |
| Competitive | $160.00 | 4 |
Registration Instructions
Step 1: Select program of your skater and press register button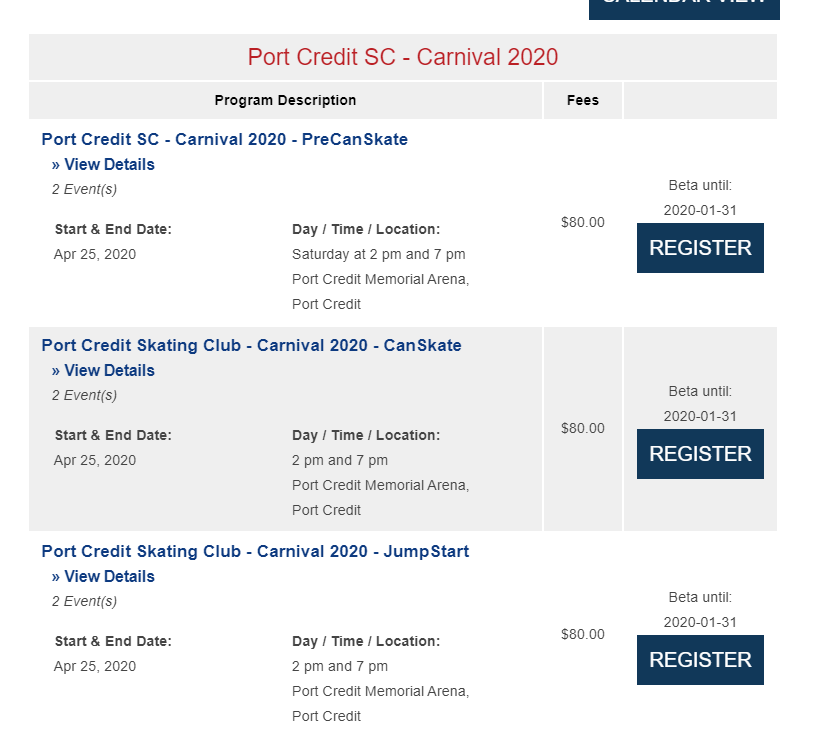 Step 2: Fill out skater information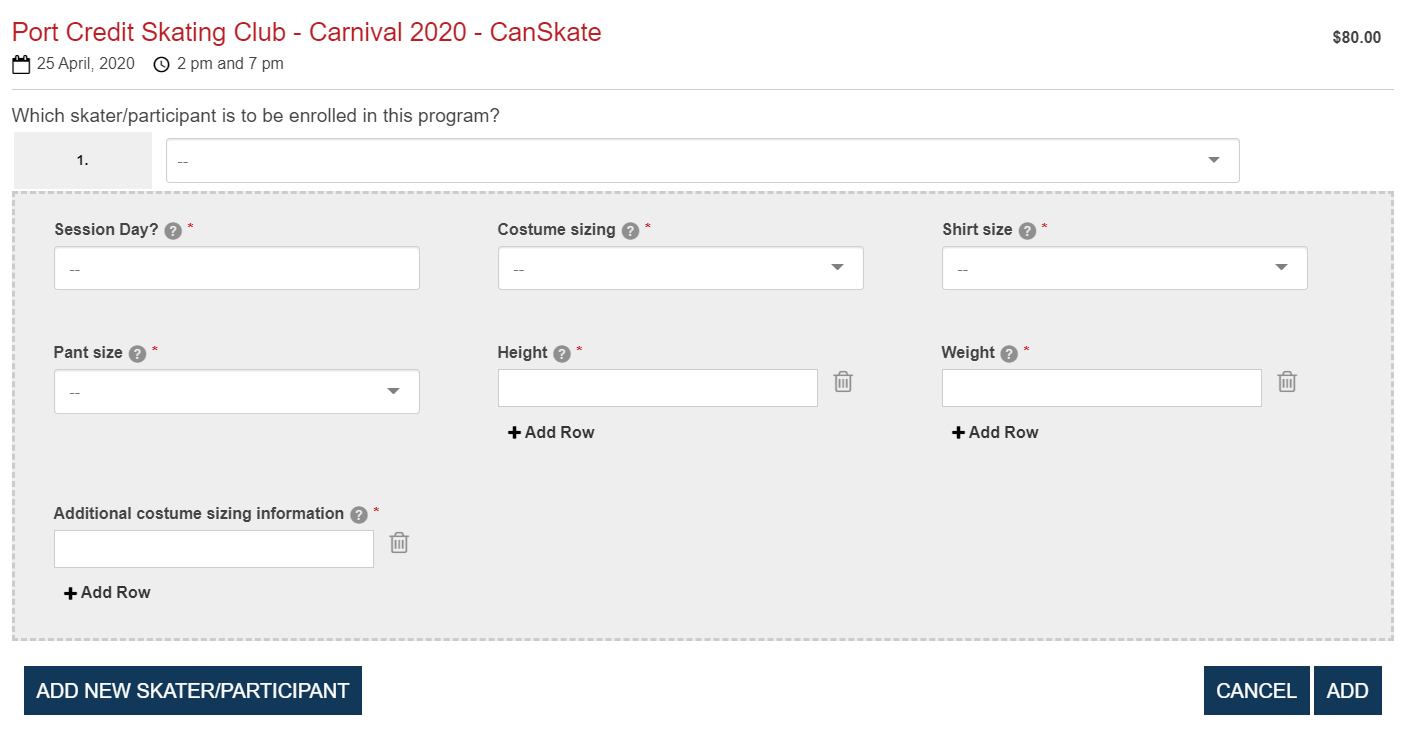 Select your skater from the drop-down menu
Select the Session date that your skater skates on (If you skate on more than one session, select one day only)
Select either Child, Youth or Adult sizing
Select shirt size
Select pant size
Enter the height of your skater with the units of measure
Enter the weight of you skater with the units of measure
Type in additional costume sizing information such as tall, short, slim, broad, long legs etc. Put n/a if you don't have any
Repeat Step 1 and Step 2 if you have additional skaters
Step 3: Go to your cart and select Volunteer Positions. DO NOT use the SELECT A VOLUNTEER SESSION BUTTON but USE the Carnival Volunteer buttons in the grey section (circled in red below)
Step 4: Select a Volunteer position and assign it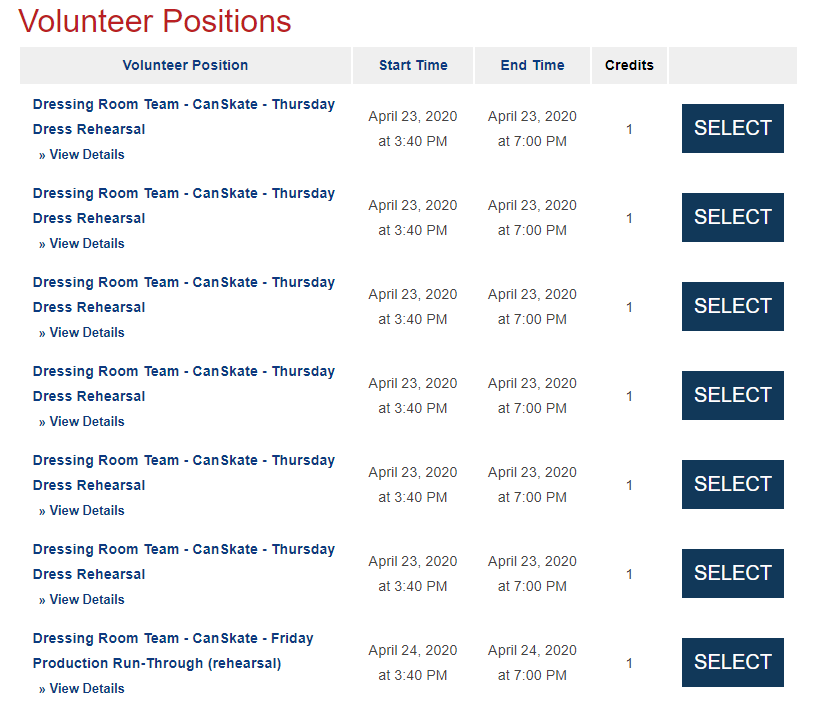 Step 5: Press the BILLING INFORMATION button. (if you wish to delete items from your cart or empty your cart you have to delete the program and volunteer position separately)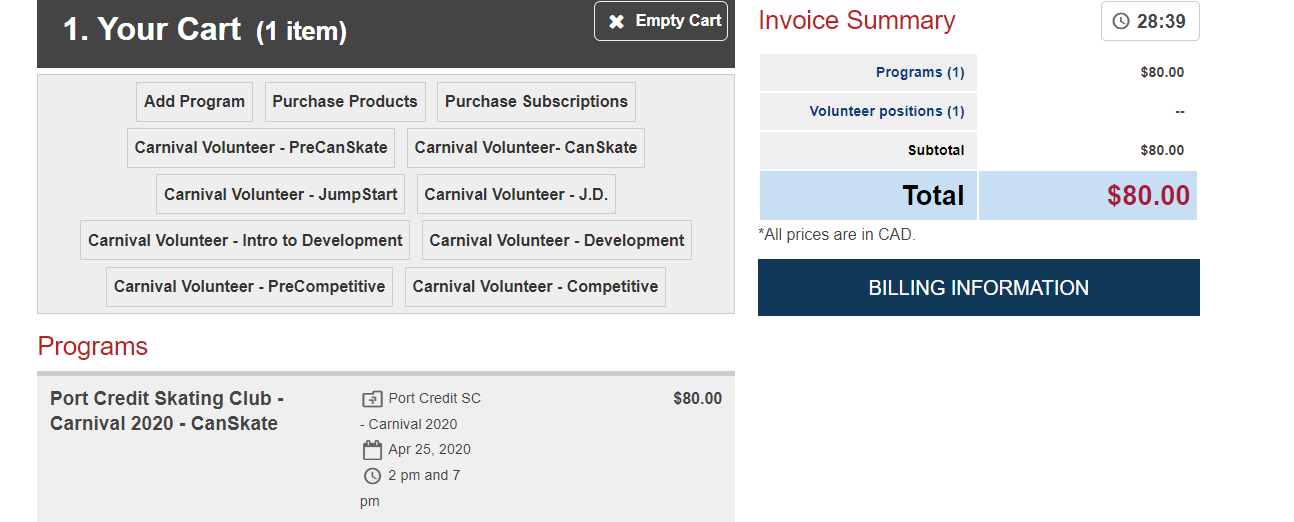 Step 6: Double check Billing Information and make any changes then press the PAYMENT INFORMATION button
Step 7: Press PAY BY CREDIT CARD button and enter your credit card details, then press SUBMIT button